At Early Bird Free Range Eggs producing the best quality eggs is our passion.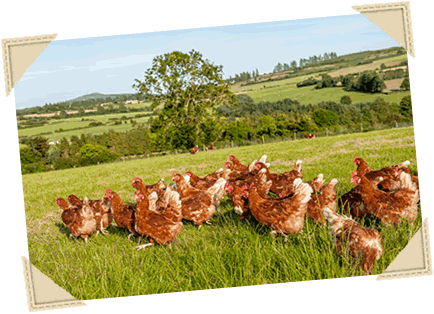 The welfare of our hens is of utmost importance to us as we understand that happy hens will produce the best eggs. Therefore our hens are free to roam through the fields, clucking, scratching and living as nature intended.
These free range eggs are unique in Co Waterford as we are currently the only free range egg producer with registered and approved egg packing and grading facilities in the county. We can bring the eggs directly from our farm to your shopping basket.
The eggs are produced on our farm.
The eggs are graded and packed on our farm
The eggs are delivered directly from our farm to the local markets, shops and retailers.
You may see eggs on the shelves that have a local name on the box but that doesn't necessarily mean the eggs are produced locally. There are many free range egg distributors and wholesalers which should be not confused with free range egg producers.
We're Cracked About Freshness
We believe that freshness is the most important factor. Eggs are laid on the farm and can be brought directly to the farmers markets and local shops within 24 hours. This ensures a much longer shelf life to the consumer. Did you know that eggs have a best before date of 28 days from date of lay? So just count back 28 days from the best before date on the box and this will tell you when the eggs were laid.