A FEW BRIGHT IDEAS FOR DELICIOUS EGG DISHES
BAKED EGGS WITH SOLDIERS (Serves 4)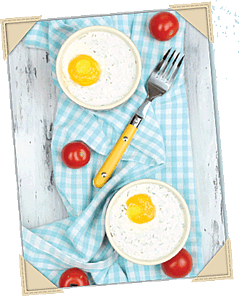 INGREDIENTS
• 8 slices (100g) ham
• 150g baby spinach
• 4 Early Bird Eggs
• 2 tablespoons finely grated parmesan cheese
• 4 slices of bread toasted, buttered and cut into soldiers to serve
METHOD
1. Preheat oven to 180°C/160°C fan/gas 5. Lightly grease four 3/4 cup-capacity ovenproof dishes. Line base and sides of each dish with 2 slices of ham.
2. Place spinach in a microwave-safe bowl. Microwave on high (100%) for 1 minute 30 seconds or until just wilted. Transfer spinach to a sieve. Using the back of a spoon, press down on spinach to drain excess liquid.
3. Divide spinach between prepared dishes. Sprinkle each with 2 teaspoons parmesan.
4. Gently crack 1 egg into each dish. Season with salt and pepper. Place dishes on a baking tray. Bake for 16 to 18 minutes or until eggwhite is just set. Remove from oven. Stand for 2 minutes. Serve with toast.
RICOTTA, TOMATO & SPINACH FRITTATA (Serves 4)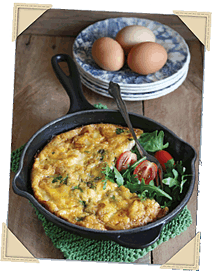 INGREDIENTS
• 1 tbsp olive oil
• 1 large onion, finely sliced
• 300g cherry tomatoes
• 100g spinach leaves
• small handful basil leaves
• 100g ricotta
• 6 Early Bird Eggs, beaten
• salad, to serve
METHOD
1. Heat oven to 200°C/180°C fan/gas 6. Heat oil in a large non-stick frying pan and cook the onion for 5-6 mins until softened and lightly golden. Add the tomatoes and toss for 1 min to soften.
2. Remove from the heat, add the spinach leaves and basil, and toss together to wilt a little. Transfer all the ingredients to a greased 30cm x 20cm rectangular baking tin. Take small scoops of the ricotta and dot over the vegetables.
3. Season the eggs and beat well, then pour over the vegetables and cheese. Cook in the oven for 20-25 mins until pale golden and set. Serve with salad.